While everyone is claiming to be the top VPN to provide foolproof security, which one is truly the best? We've tested over 53+ VPNs in different ways to give you the best-of-the-best recommendation.
We purchased their services
We tested for IP, DNS & WebRTC leaks
Tested them for Torrenting
Compared usability, cost, and overall value
ExpressVPN is not going to be light on your pocket, believe me! Your every penny would be worth spending. The spectacular unblocking capabilities coupled with its extraordinary security measures are making ExpressVPN
CyberGhost revamped their website with a look of a new VPN provider. This VPN has been providing security services for a few years now, and with it's 7' upgrade
NordVPN offers robust security protocols including Onion Tor which works as an additional security measure. We went on with NordVPN review through
Childhood and Teenage are the precious phases of my life; I would give anything to relive again. Remembering those days, when we used to spend most of the time in sports, running and chasing friends in the alley playing 'Hide and Seek'
As a user, you need to cope with it by taking countermeasures; having a VPN on FireStick is one of them that would keep your IP address and identity safe, keeping online surveillance above you.
Unfortunately, free VPNs are usually restricted in one way or another; no matter how quickly the market for free VPN is rising, your online privacy is still at stake. Practically speaking, anything which is free always end up in more
What We Think About Best VPN Service?
We've been testing different VPN providers to come up with the list of best VPNs, we have found that most VPN services fail to perform when put to test, especially in three aspects;
Leak Protection – this exposes identity, location and/or browsing
Broken Features – Many VPNs fail to survive its Kill switch and other features while reconnecting with the VPN or when switching network interfaces.
Fake Logging Claims – Many VPNs monetize the users data that they collect, by selling to third parties.
The idea behind our VPN testing is to filter all the noise and identify the most secure VPN providers that passed all the tests, meeting the given criteria.
Located in a privacy jurisdiction (outside of 5/9/14 Eyes countries)
Passed all tests with no leaks whatsoever (no IP address or DNS leaks WebRTC leaks)
Robust performance throughout the network (speed and reliability)
Easy-to-use VPN apps with all the working features
Supports the OpenVPN protocol and strong encryption
Offers a money-back guarantee ( 7 to 45 days)
Trustworthy provider with a good track record
Not fulfill either of the given criteria? That VPN don't deserve to be featured in the list of best VPN.
Picking a VPN service is a difficult task, with hundreds of different VPN providers; choosing the right one means striking the balance between ease of use, services, and pricing.
If you're looking for a solid VPN service and want to do your due diligence to find the best match, you've landed on the right ground.
We've surveyed the market and collected the best VPNs out there, sorting into different categories. Our website is constantly being updated with the latest information.
So, Which VPN service is best?
As there is no "one-size-fits" all best VPN service perfected for everyone; any of the VPNs in this guide may be the best for your situation – it all depends on your needs.
Testing criteria: Each VPN service is tested against connection issues, reliability, speed, IP address leaks, DNS leaks, and whether the features work accordingly. Additionally, we've also examined jurisdiction, logging practices, company policies, as well as the history of each VPN provider. The rankings is based on a combination of all these factors.
A Quick YES/NO Criteria to Choose the Best VPN 
Price: Affordable
Speed: Faster the better
Features: Is the provider offer advanced features like; split tunnelling, military grade, internet kill switch, encryption, etc.
Customer Support: Must have efficient complain resolving mechanism like 24/7 live chat
Logging Policy: Can't risk your logs before reading the logging policy in detail. Strict NO LOGS policy is desirable.
Supported Devices: More the devices supported, better to equip.
Simultaneous Connection: More the connectivity, better to invest, depending on your usage.
Here are the 5 best VPN services for 2019
1. ExpressVPN (Highly Recommended, Fast and Reliable)
Highs
Super-fast VPN (No 

bandwidth caps.

)
Strict NO LOG policy
30-day money back guarantee
Robust encryption and 2000+ servers in 94 countries
24/7 Customer Support
Netflix friendly
Lows
No free trial
Highly priced
3 simultaneous connections
2. CyberGhost VPN (Tons of Features, Average Speed)
Highs
Simple to use and affordable pricing
NO LOG files
Torrenting is allowed
Unlimited bandwidth
24/7 Customer Support
Netflix friendly


Lows
Slow customer support
Average download speed
Alleged for security reasons
3. NordVPN (Best and Cheap VPN)
Highs
Largest VPN server network (5000+)
NO LOG policy
Torrenting allowed
Unlimited bandwidth
Double data protection
Netflix supported
Lows
4. IPvanish (US Based but No-log Policy)
Highs
Fast Speed
No logging
Torrenting is allowed
Multiple device support
Netflix supported
Lows
High cost
Located in the US
No live chat
5. Private Internet Access (No Netflix, Cheap and Reliable)
Highs
Larger server network (3200+)
Quite Affordable with Quality and reliability
Torrenting is allowed
Above average speed
SOCKS5 Proxy Included
Lows
Based in the US
No Netflix
No live chat
We know there must be so many questions revolving in your mind related to VPN, so let's figure it out all your frequently asked questions.
Why, What, Where, and How of A VPN?
Is VPN Fully Legal? Yes! 97% of Countries
Using a VPN is absolutely fine in most part of the world.
However, we checked 196 VPN country laws to confirm our claim; only a handful of countries control VPN usage, while bunch of them ban its usage outrightly.
Only "Government Approved" VPNs are used in the following regions:
China
Oman
Russia
Iran
Turkey
United Arab Emirates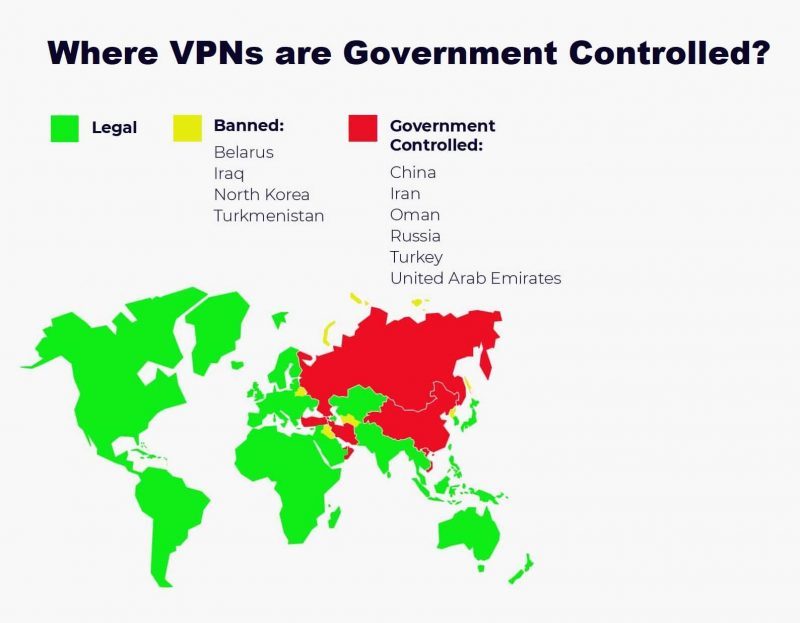 Getting caught using the VPN that's not sponsored lead to hefty fines, jail time, or both.
Beware when in any of these countries. You can believe the fact that "government approved" means sharing some (if not all) data with the authorities when called upon.
Though VPN services are legal and run by reputed organizations and most of them would never let anyone use it for illegitimate activities, but still you need to be careful when looking for a reliable VPN service provider.
Do Best VPNs Keep Logs?
No matter how best the VPN is, your logs are somehow been recorded; absolute privacy and anonymity is just an illusion.
According to the recent research, out of 118, 26 VPN providers collect three or more important log files that easily reveal your personal actions; don't worry! The above mentioned does not fall in this category.
They all claim that they "don't log." But all of them do; you'll get to know when you dig into their privacy policies and terms of service, find exactly what they're logging.
Like, all of them track aggregate bandwidth usage to monitor their own server performance; that's not a big deal though.
To make the matter worse, many of them practice overly-complicated legal mumbo-jumbo for the sake of confusing the issues. Their words sound innocent and doesn't seem like they're tracking the files you download, but they do so.
How VPN Impact Speed? Not Much, But Again It Depends On the VPN
Since VPN is about protection with an added layer of security; this means adding more hoops for our web traffic to jump through. You can always expect slow connection due to additional speed bumps.
The point is to find a VPN that doesn't derail your entire traffic; let's check it out!
The benchmark reading without a VPN was;
Ping – 7ms
Download – 98.61
Upload – 52.00
We connected to different servers to get the combined rating. Throughout the process, we witnessed a slight change or reduction in our speed – 30%; it was not that noticeable though!
Can a Best VPN Deal with ISP Throttling? Yes!
Internet Service Provider (ISP) 'throttle' connection to intentionally slow it down; it shouldn't be legal, but unfortunately, it is.
If you're streaming HotStar, HBO, Netflix or anything that eats a ton of bandwidth, then your ISP might purposefully slow down your connection to force you to stop.
Why they do so?
Limited resources left for other customers, and
Less streaming of their services or shows.
For this, they use methods like 'peering' to spy on your traffic data; it's not always possible to escape throttling.
Want to escape throttling? Use a best VPN and encrypt your connection, hiding from peering-type activities.
Although VPN is not a foolproof solution. But helps you in obfuscating your data packets that identify you as you.
Are Best VPN Safe To Use?
Before taking this question – ask yourself why do you need a VPN? Your VPN desirability defines the safety threshold of a VPN. All the best VPN providers use strong encryption protocols that are capable enough to protect your digital footprints. However, no matter what VPN you use, that definitely keep a check of your connection logs to abstain you from any illegal activity.
Talking about safety and security, the encryption standards that best VPN providers follow nowadays are reliable enough to keep your identity safe and secured. But hold on! It's you that have to get to know the level of security your chosen VPN is providing. Want to a quick guidelines, here you go!
Check whether the proposed VPN follow strict no log policy – read the Terms and Conditions and Privacy Policy carefully.
Check the jurisdiction of the VPN provider they follow (If the VPN provider is located in Canada, UK, USA, Australia or any other country of 5 Eyes, then run; these countries have very strict data retention laws, means your VPN provider is not only monitoring but also handing it over your data to the government agencies. The highly recommended location are Hong Kong, Romania, Malaysia, Netherlands, and Singapore)
Check their customer reviews to ensure the level of satisfaction of existing users.
Check whether the VPN provider accepts anonymous payment method – Bitcoin, PaysafeCard, GiftCards, etc. Unavailability of anonymous option means the provider needs your credit details.
Check the list of additional features – VPN Over Tor, Double VPN, Double Encryption, IP Leak Protection, Split tunneling, DDoS protection.
The above will guide you towards a bet which is safer enough to protect your online privacy.
Is VPN Similar To Proxy? Not Really
Number of security and privacy tools are innumerable; you'll easily be confused. To make you understand the difference in four of them, we have conducted a comparison that we are sure, you'll get to know why we call VPN – a one-stop solution.
| | | |
| --- | --- | --- |
|   | VPN | Proxy |
| IP switching | Yes | Yes |
| Easy-to-use | Yes | Yes |
| Free to use | Some are free | Absolutely free |
| Slow down speed | Minimal | Significantly |
| Anonymity | Yes | No |
| Encryption (256 bit or above) | Stronger | No |
| Vulnerable | Not at all | Significantly |
| Unblock restricted content | Absolutely with Privacy | Yes but with no privacy |
| Kill switch | Yes | No |
| IP leak protection | Yes | No |
| Multi logins | Yes | No |
| DNS leak protection | Yes | No |
| Connection issues | Mostly not | Mostly Yes |
| Built-in advance features | Yes | No |
| Compatibility | Highly Compatible | Very limited |
| Customer Support | Mostly Yes | No |
| P2P support | Yes | Yes but unsafe |
| Third-party Software Involved | Yes | Yes |
| VoIP support | Yes | No |
Technicalities over, now let's talk about some pros and cons of using the best VPN and why a free VPN is a no-go.
Let's Talk About Free VPN? Are They Really FREE
Let me tell you the secret – For free service YOU are the product.
Be it VPN or anything, shady free service provider track the user's data and monetize it with third party bidder.
The news of getting caught is common; many free VPN service providers caught injecting ads and referring affiliate traffic for financial gains. Let me remind you a case, in which CSIRO research and FTC complaint against a well-known VPN provider- Betternet.

Scared?
It's better to get your homework done.
Benefits of a Best VPN
You already know that a VPN offers utmost privacy and anonymity. But how, exactly? Have a look!
First, it masks the IP address you're using to conceal your geographical location; this might sound small feat, when considering those VPNs that leak DNS or IP address.
Appearing somewhere else allows you to bypass geo-restrictions that imposed on some content or uncensor websites; if you're a journalists or privacy activists of an authoritarian regime, you can easily escape backlash, jail time, or worse.
A VPN creates a protected tunnel around your internet connection (using OpenVPN tunneling protocol), to anonymize not just your browser, but your app activity, too. All the best VPNs use 256-bit AES encryption to makes it virtually impossible for your ISP to track your digital footsteps.
In short, the best VPN will let you;
Stream Netflix (specially US-only content) and other streaming giants
Keep your P2P activity anonymous
Protect your entire range of devices and OS including Router, Smart TV, Game Consoles, etc.
Avail best shopping deals and cheaper flights
Reduce latency and improving gaming experience
Enjoy free public WiFi with anonymity.
Using any non-recommended VPN means wasting money for a terrible performance and wait forever to stream something until you abandon it and can't get your hard-earned bucks back.
We've already shared some of the 'spying' and malware risks that is associated with free VPNs, too.
Though, these risks are conditional and pretty rare, but happen. So be in touch with us to get to know any potential red flag regarding the best VPN.