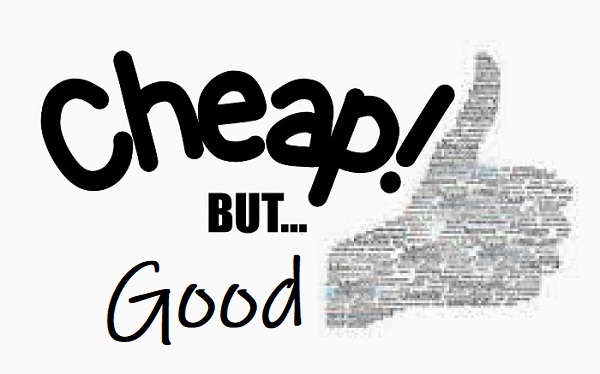 Not every high-priced tag reflects premium offers, many at times tough competition also yield similar features in an affordable manner. Talking about VPN industry which is packed with numerous names, also follows the rule of neck-to-neck competition, where premiums selling premiums while cheap VPNs (if the word cheap connotes invaluable to you so call it affordable VPNs) are also striving to be in the race with a pinch of salt limitation/s.
VPN services don't usually cost an arm and a leg, but still if you're on a tight budget and don't have enough bucks for your cyber security, then don't worry! Now you don't need to spare $20 or more on a premium VPN, you can get a cheap VPN with $4 or less.
Would you accept a wallet friendly VPN with poor quality and sluggish performance? I guess, nobody would.
The market for affordable VPN services is filled with countless providers who claim to have the "Fastest and Most Affordable" VPN.
But the reality is; Most of these claims are not true! Let me tell you one more secret – Cheap VPNs are often notoriously unsecure, unreliable, and quite slow, but there is a handful of gems among those that worth your time and money.
You will come across a huge list of affordable VPN services; all you need is an analytical judgment and find the one that worth your hard-earned bucks. Witnessing the growing demand for VPNs, our team has prepared a comprehensive guide that will help you with the entire process of selecting the best VPN that are super-economical.
To help you find the perfect match that keeps your browsing secure and wallet full; here are 5 best cheap VPN services you can buy in 2019.
The Best Cheap VPNs of 2019 Are……
If you don't trust our experts and want to go through the depth of research that our experts did, that includes thorough research of each provider, while being aware of the needed with that of provided features. To help you with that, below are few pointers to look for in the best cheap VPN.
Features to Look for in a Cheap VPN
URL Filtering – This feature allows the client application to scan through spammy URLs and websites to ensure that the VPN blocks malicious pages before visiting them. This protects you and your data from frauds and other possible risks.
Ad Blocking – There is nothing more irritating than a flood of useless advertisements while browsing favorite website. Make sure the chosen VPN equipped with built-in ad-blocking feature, so that you can enjoy streamlined browsing experience.
Split Tunneling – This feature in VPNs route some of the web traffic through a VPN, while letting the rest pass through the internet. It comes in handy for torrenting, when you want to leverage speeds for uploading/downloading your favorite content.
Encryption – When opting for a low-priced VPN service, make sure the encryption provided is effective enough to protect your data. The best providers offer the highest level of military-grade 256-bit AES with 4096-bit Key Encryption.
Antivirus/Anti Malware – As a matter of fact, a VPN should secure your device from all corners, make sure that the chosen VPN must have built-in integration of anti-virus and anti-malware competencies. This prevents viruses infecting your OS, guaranteeing robust data protection.
Protocols – The intended VPN provider must support a range of protocols, including PPTP, L2TP/IPSec, and SLL. To leverage the best security, select a VPN service that supports OpenVPN.
Logging Policy – The logging practices of a VPN are critical to determine the threshold of anonymity you will receive. Be sure that the VPN you choose must offers a no-logging policy or if it records connection information, it should defies the purpose of using a private network service.
Servers – The number of servers available in multiple countries is crucial for unblocking and accessing content. Make sure to choose a provider that has plenty of servers to connect with.
P2P/Torrenting – One of the main reasons for most of us to use the best VPN service is to extend the P2P file sharing. The provider you choose must have an open policy that grants torrent download freely while maintaining the speed.
Compatibility – Whenever you select a VPN for whatever the reason, make sure it offers apps compatibility; means it should have dedicated applications for all the streamline OS – Windows, Linux, Mac, iOS, and Android – having setup guides for other platforms, would be a cherry on the cake.
Other minute details include;
Number of simultaneous connection
Does a VPN offer anonymous payment methods?
Speed of a VPN
Number of payment plans available
How prompt customer support is?
And, availability of money-back guarantee.
Are Budget VPNs Safe?
Don't forget that not every affordable VPN is safe to use; safety is about two things only.
Logging Policy
Jurisdiction
Logging policy is pretty straightforward (the fewer logs the better), but Jurisdiction is not that simple; let me tell you something interesting.
Ever since Edward Snowden revealed about the infamous data breach, leaking thousands of classified NSA files; we've realized that the private lives aren't private as we all are made to believe.
In fact, there is a partnership commonly known as the "Five Eyes Agreement" between the UK, Australia, U.S., New Zealand, and Canada that allows each country to collect, critically analyze, and share sensitive data with one another, circumventing the privacy laws of each other.
For example, if there is a law in any region that prevent government from surveying and spying on their own citizens, the law subsides and request any other eye/s to do the dirty job for them.
Meaning that the privacy laws are effectively rendered null.
But things don't stop here.
The five countries has also created a "Third Party Partnership" with France, Holland, Denmark, and Norway, thus expanding the network to "Nine Eyes".
Wait! There's more.
If this is not enough, then listen! The original five eyes partners has expanded their network, adding Belgium, Sweden, Spain, Germany, and Italy to their list.
The Snowden leaks also confirmed that South Korea and Singapore are also taking part in the new "14 Eyes" partnership.
So, how it all relates with VPN safety?
Basically, if you are using a VPN located anywhere within the 14 eyes partnership, the safety and privacy of your information can possibly be threatened anytime in the future.
This multi-eye surveillance is very little to worry if the chosen VPN provider upholds no logging policy; be aware of this partnership and its ramifications on your security!
Be Skeptical With The Red Flags
With a glut of VPN services on the web, it is difficult to accurately pinpoint a a fraud. Regardless, there are some red flags that help you determine whether a service is genuine or not.
Many VPNs offer discounts on their yearly packages; this is completely fine as most businesses want to seek long-term customers. It makes sense to reduce charges for those who are in for a long haul, but be wary with a VPN service that offers a ridiculously low price for monthly service.
When a VPN charges low for monthly subscription, then make sure the intended service provider is maybe interested in something other than money. To put it clearly, it may be interested in your browsing activity and/or personal information.
Hence, before opting a VPN, do your research, investigate the company's history and see the relative involvement of the service provider in a scandalous activity. All the VPNs above are all tested and reviewed thoroughly by our experts; means you can subscribe either of them to put your mind and efforts at ease.
Yes! You Heard It Right – Cheap VPNs Can Also Be Coined As Cheap Flights VPNs
The cheapest VPN you can get for flights is HideMyIP, which cost you only $2.95/month; many providers become expensive if use for a short time, (like for travelers) thank God! Pocket-friendly VPNs still exist.
HideMyIP offers the best cheap rates with all the security features including DNS leak protection, coupled with the low-cost; making it the best yet a budget VPN for flights.
With HideMyIP, travel organizations and frequent or economical travelers can hide their IP address and connect to the region where airfares are the lowest. Here is how you can cut your traveling expenses.
Clear the cookies of the browser before visiting traveling websites
Use different browser for traveling sites
Make sure you've selected the IP address of any low income country
Now, visit international traveling websites and enjoy maximum discounts on your future flights.
Cheap VPNs Are Only CHEAP In Price!
Yes! It's not always wise to mix the word cheap with the quality of the service.
We hope that this guide has justified with all the information and insight that you need to select the budget VPN.
Awaiting your thoughts – Your Reaction Is Our Reward!