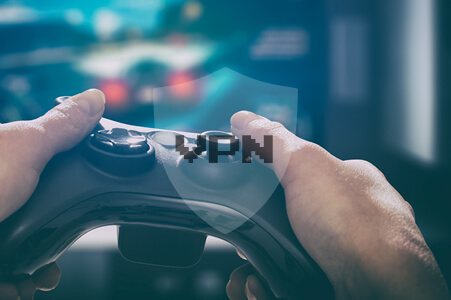 The gaming industry has revolutionized how we interact these days. The recent PUBG and Fortnight craze is reaching new highs. According to research, the video games market is set to reach a staggering $90 billion by 2020. We know how annoying it is when we face issues such as geo-restriction, latency, higher ping, and lag while playing our favorite game online. So what to do? Have you ever heard about gaming VPN? Check out our list of best VPNs for your gaming fanatics.
A List of Best VPNs for Gaming
To help you choose the right VPN for gaming, we have made a list of the best VPNs in the market. Some gamers think that using a VPN will eventually slow down the bandwidth. However, others feel safe while using a gaming VPN because it not only hides their IP but also protects them from malware attacks. Since online games can be competitive and intense; our game-junkies can relate with DDoS attacks, that are common. Let's see what our experts suggest for your uninterrupted and secure gaming experience.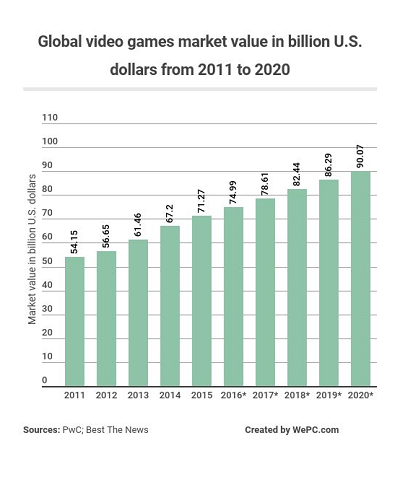 The table above shows VPNs on which we have personally played games – Dota2 and CSGO and rank them accordingly. We can conclude that these VPNs improved our gaming experience greatly. If yes then let's put it to test. Before we jump into conclusions, let's understand what a gaming VPN is?
What Is Gaming VPN?
VPN was created to connect employees from different regions to head office. However, with time, it becomes the savior of privacy; read this guide and get to know how a VPN has transformed into something we cannot live without (no exaggeration here) You can read this guide about what, how, and everything about VPN technology.
Gaming VPNs are more or less similar to other VPNs, but they excel in terms of speed and malware protection. A VPN for gaming protects you from heinous malware such as DDoS (Distributed Denial of Service) which results in lag and slow internet speed. This feels annoying especially when you are at a crucial stage of the game or playing a professional online tournament with high stakes. These 5 great attacks of DDoS will give you chills down the spine.
Is VPN for Gaming Necessary? Yes! But depends….
Since the gaming industry is evolving, games such as CS, Dota 2, PUBG and Fortnight are stealing the limelight. Lag and latency play a vital role in multiplayer games like the one mentioned above, and some online games are restricted to some regions only. Here gaming VPNs come as a savior; they unblock not only geo-restricted online games but also provide low ping which eventually results in smoother gameplay and better gaming experience.
All the VPNs in the market seems more or less same, as they all are claiming to protect our security while playing online games, but only an expert can suggest you the best for the best gaming experience; so, don't start hunting for an expert, as AllBestVPN has already.
How to Choose the Best Gaming VPN?
There are more than a couple of things to keep in mind when choosing the best VPN for gaming. These include;
Number of servers (More the better)
Lower Ping
Blazing-Fast Internet Speed
NAT Firewalls and Anti-DDoS Protection
Dedicated Servers for Gaming
Also Read: Fastest VPN Services
The worst experience a gamer face while playing online is with a DDOS attack, so without dragging further, let's talk about DDOS in particular.
What are the Symptoms of a DDoS Attack?
The DDoS attack has some definitive symptoms, these include;
Sudden Internet disconnection.
Higher game ping, continuous lag.
Slow access to files, remotely or locally.
Excessive spam emails
How DDoS Attack Affect Your Internet?
There are many Botnet-for-hire services which can be purchased for the evil deed of attacking someone with DDoS. These purchases range between $5-$10 and end up sending excessive traffic on a specific web address or IP which therefore makes it paralyzed for a few moments or hours.
Gamers are targeted explicitly by DDoS attack because they are the most vulnerable ones. There are hundreds of gamers playing online at a time; this increases the risk of SPOF (Single-Point-of-Failure). DDoS attackers are on a hunt for such moments; they unleash their wrath by DDosing on a massive scale to get instant famous.
No matter it's DDOS or anything that could potentially spoil your gaming moments, a gaming VPN will keep you protected and enhance your pleasure, so let's set up a VPN and boost gaming skills.
How to Setup a Gaming VPN?
On PC (Windows)
First of all, check if no other game is running on your computer. If yes then close the application.
Choose a trusted VPN for gaming from the table above and download it.
Choose a server closest to your current location for the minimum ping.
Check any advanced option from the VPN application and uncheck unwanted ones to boost the performance.
Enjoy low ping and protected gaming with a VPN.
On Android
Once you have downloaded the native application for your android device from the table above it is time to get started.
Open the VPN app and choose a server that is close to your original location.
Choose PPTP as a protocol because it is fast as compared to its counterparts.
Open the game you want to play and enjoy secure and uninterrupted gameplay.
For a more optimized experience, make sure no other app is active of your android device but the game you are enjoying.
Also Read: The Best VPNs for Android
On iOS
Make sure all games are closed on your iOS device.
Select a gaming VPN from the list above. Every VPN mentioned above has its custom iOS application.
Download the application.
Select a region that is close to your country for maximum speed.
Choose PPTP from the protocol for faster connection speed.
We hope that this blog would have helped you understand what a gaming VPN is, and how crucial it is in this age of security breaches; I hope you don't want to be the part of next update of Troy Hunt. Sign up any of those mentioned VPNs and experience a lag-free and much smoother gameplay.
To end this gaming guide, we are leaving with top-benefits of using a VPN in the gaming realm.
Benefits of Using A VPN for Gaming
1. Bypass Geo-Restriction
There are times when an online game is clocked in an area or country. A recent example of it is when China banned Battlefield4 because it was thought to be depiction of a US-China war. This, however, did not restrict gamers in China to play the game. They still manage to play it using a VPN.
2. Buy Cheap Games
A gaming VPN not only allows you to get unrestricted access to any online game but also helps you purchase a game at a lower price just by changing your IP address. For instance, a game is releasing for $45 in US and the same is priced at $32 in Russia, then all you have to do is to change your IP address to the one in Russia and get your desired game with the best deal.
3. Protects Gamer From DDoS Attacks
VPN for gaming not only optimizes for optimum connection speed but also secure the connection from risks and threats. One of the unethical methods used by a losing opponent was the use of DDoS attack as mentioned in MOBA. Cyber attackers are always on a hunt to steal your information; every gamer has his profile information which has their financial and personal details. Without using a VPN for gaming, you have yourself exposed to hackers.