Highs
3235 VPN Servers in more than 33 countries
No log Policy
Affordable Pricing Plans
Blocks Targeted ads malware
P2P Support
AES 256 Encryption Enabled
Easy to use mobile app
Multiple Simultaneous logins (up to 5)
Lows
No dedicated server for streaming
No Live Chat Support
No Free Trial
Private Internet Access VPN (PIA VPN) is a US-based VPN which is in the industry for a long time. If I say, it is one of the oldest, that wouldn't be so wrong.
The VPN service is aim to help internet users to unblock restricted content, bypass geo-restrictions, avoid censorship and surveillance, hide real IP, and protect online existence from online threats. Why has PIA earned a name in the industry is one of the major concern? The main reason for this VPN's success is its affordable price and top-notch features. PIA offers the highest level of encryption and multiple protocols. It also allows P2P file sharing and provides DNS leak protection.
There are plenty of things that users are not aware of about Private Internet Access VPN, and the reason of conducting this review is to make our readers well-versed with every feature and offering of this VPN service. By the end of this Private Internet Access VPN review you will have an idea of what this product is all about, and it will surely help you decide whether to go with PIA VPN or not!
So. let's not waste any more time and get started with PIA VPN review. The first and foremost concern of this review is:
Where is Private Internet Access Company Located?
PIA is based in Denver, Colorado in the United States. The VPN provider operates its business from the USA, but it is owned by a company called 'London Media Trust' based in London, UK. Being a US-based VPN, PIA is obliged to work under the US laws that raise concerns over users privacy and security. Being operated in the USA and owned by a company located in the UK, PIA falls directly in a radar which makes it impossible for trusting the service as being a 'No-Logs' VPN.
PIA claims to keep 'No logs' which is highly doubtful in this scenario. After thoroughly reviewing its Privacy Policy, which we will discuss at a later stage, I have noticed, PIA mentioned that they collect data globally, stored the data in the USA, and on moving the data from the USA to any other region, PIA will take user consent first.
How We Transfer Information Collected Internationally

We collect information globally and primarily store that information in the United States. If We transfer your information from the United States, We will request your consent.
Will they protect user's privacy as they claim or will they end up giving up all your data to authorities if requested? And, worst of all, are they involved in collecting users data on behalf of NSA? These concerns are genuine and having doubts about PIA's claim of 'No-Logs Policy' make it harder for me to consider PIA as a secure option.
A Glimpse of Feature You Get When You Buy PIA Subscription
| | |
| --- | --- |
| VPN Servers | 3235+ Servers in 33 Countries |
| Offered Protocols | PPTP, OpenVPN, and L2TP/IPSec |
| Level of Encryption Used | 256 bit AES Encryption |
| Dedicated Apps for all Devices | Yes |
| Netflix | No |
| Torrent friendly | Yes |
| Jurisdiction | 5 Eyes (US) |
| Support | No live chat support |
| Zero-Log Policy | Yes |
| Port Forwarding | Yes |
Basic features are like salt in the food. What makes the food more delicious is the additional species. Let's move on to the next section, where we will discuss the advanced features of Private Internet Access VPN.
What Additional Features Comes with Private Internet Access VPN?
Ad-Block With Advanced CBC Algorithm
Private Internet Access offers the Ad-block feature that works with a cryptographically secure Blowfish CBC algorithm. You must be wondering what is cryptographically secure Blowfish CBC algorithm? Let me explain:
It is a symmetric block cipher that is used for encrypting user data. It uses a variable-length key, from 32 bits to 448 bits, which helps in restricting any unwanted ads by checking the URL and domain certificate of the website before allowing access to it.
The feature can be easily activated from App Settings.
Additional Tools Available to Check for Vulnerabilities
The VPN provides few additional tools to test if your IP is not leaking. PIA offers a feature that can check the following vulnerabilities:
DNS Leak
IPv6 Leak
Email Leak
These leak tests are available on the website of the software which can be tested to ensure that the IP, DNS, and Email is not being leaked by Private Internet Access VPN. This is a big issue with the network configuration which leads to a loss of privacy by sending DNS queries on insecure links.
With the DNS tool, users can check prominently if the VPN service leaks DNS or not.
If you click on the option you will be directed to a new page that will give you the option to check the DNS leak test. The same applies to the IPv6 and Email leak test.
SOCKS 5 Proxy
Private Internet Access includes a SOCKS 5 proxy protocol that exchanges network data packets between the client and server through a secure proxy server. This protocol will protect the server from being hacked by hackers.
The list of additional feature ends here. It's time to taste the salt – means – let's talk about the basic features
Outstanding Features of Private Internet Access
There are many striking features of Private Internet Access VPN, and all are elaborated in detail below.
Market Competitive and Affordable Pricing Plan
Private Internet Access offers one of the best pricing plans in the VPN market with a 7-day money-back guarantee.
Monthly plan costs $6.95
Yearly plan costs $39.07 which costs around $3.07 per month. (Latest deal Save 52%)
Two-year plan costs $69.95 charging a low price of $2.91/month. (Latest Deal Save 58%)

PIA's pricing is pretty competitive to the current market; even its monthly subscription is cheaper compared to the other leading VPN providers.
How to Pay For Private Internet Access Download?
PIA VPN offers a wide variety of payment plans, these include:
MasterCard
Visa Card
Debit and Credit Cards
Holiday Coupons of retailers such as Starbucks best Buy and Costco
Bitcoins
Payment option like Bitcoin provides an added anonymity to users who don't want to share their identity even to the VPN provider. Having BitCoin in its payment method list adds a competitive edge over other providers and makes PIA VPN as one of the most reliable VPNs out there in the market.
7-day money back guarantee
At any point if you feel Private Internet Access VPN is not performing as per your expectations, you can avail 7-Day money back guarantee. Many VPN providers give 30-day refund policy which gives more leverage to the user to try out the service. I consider it as a drawback for the VPN provider.
PIA Servers Performance – Impressive Speed Test Results
Private Internet Access VPN downloads and Upload speed was striking. While checking the VPN speed, I found out that it crossed 80 Mbps mark when connected to a 100 Mbps connection. I tried the servers included the US, Asia, Europe, and the UK to test the speed. Here're the results of the speed test:
United States Server (New York)
Download: 77.56 Mbps
Upload: 36.75 Mbps
Ping: 118ms
Asia Server (Hong Kong)
Download: 69.88 Mbps
Upload: 13.07 Mbps
Ping: 283ms
Europe Server (Amsterdam)
Download: 81.44 Mbps
Upload: 40.31 Mbps
Ping: 41ms
United Kingdom Server (London)
Download: 75.67 Mbps
Upload: 23.00 Mbps
Ping: 48ms
Private Internet Access might not be the fastest VPN in the market, but surely it is not among the slowest. Using PIA, I did not experience any lag or buffering issues; thus I concluded that it is one of the fastest in the price range it falls in.
Private Internet Access Claims Strict Zero Log
So far, there is no such confirmed news about PIA leaking users data, but as discussed earlier, there are many doubts about its Privacy Policy. Let's have a look at some of the clauses extracted from PIA's Privacy Policy.
Personal Information We Collect

From Clients of our Service

E-mail Address for the purposes of account management and protection from abuse.
Payment Data for the purposes of processing payments as required by our third-party payment processors. Note that we do not save your full credit card details.
Affiliates who use the control panel will receive a temporary cookie to improve delivery of services.
From the Website and Email
Google analytics data (this data is anonymized). Google may also store a cookie with your consent. You may opt out here with Google's plugin.
Internationalisation (i18n)
Affiliates who opt to use the optional control panel will receive a temporary cookie.
Information included in any submissions on the 'Contact Us' page.
The email address of any e-mails we receive.
Having a business registered in the USA, and claiming not recording or monitoring users' activities is a bit shady. Here's one more clause, that put me off from the VPN service:
PrivateInternetAccess.com is a business that strives to protect privacy and the privacy rights of our clients. Although we will comply with all valid subpoena requests, our legal team scrutinizes each and every legal request that we receive for compliance with both the "spirit" and letter of the law. For invalid or overly broad subpoenas, we will often question or attempt to narrow the scope of any subject matter sought. Moreover, when it is possible and a valid option we will provide the user an opportunity to object to any requested disclosures. We cannot provide information that we do not have. PrivateInternetAccess.com will not participate with any request that is unconstitutional. 
They are accepting it loud and clear that PIA will participate with request falls under constitutional laws which is quite evident for the USA. According to USA data retention laws, businesses are bound to keep a record of their users for at least 30 days.
I highly recommend for all the readers, who are willing to give Private Internet Access VPN service a try, they should go through the 'Privacy Policy' point-by-point in detail.
Superb Compatibility with Popular Mobile and Operating System
A good VPN provide support for all popular operating system and works smoothly on most devices, may it be a mobile or wearable gadget. Private Internet Access covers almost all operating platforms, these include;
Windows
Windows 10
Windows 8
Windows 7
macOS
macOS 10.13
macOS 10.12
Mac OS X 10.11
Mac OS X 10.10
Android
Android PPTP (2.3.4)
Android IPSEC/L2TP
Android OpenVPN (root)
iOS
iPad PPTP
iPad IPSEC/L2TP
iPhone/iTouch PPTP
iPhone/iTouch IPSEC/L2TP
Linux
Ubuntu 18.04
Ubuntu 17.10
Ubuntu 16.04
Debian 9+
Mint 18+
Arch Linux
Routers
DD-WRT PPTP
DD-WRT OpenVPN
Tomato OpenVPN
PfSense OpenVPN
Besides these, the VPN offers:
Private Internet Access Chrome Browser Extension
Private Internet Access FireFox Browser Extension
Private Internet Access Opera Browser Extension
Before we move forward to the browser's extensions, let's take a look at how users in the App Store and Google Play rate the customized mobile application of PIA.


Private Internet Access Chrome, Opera and Firefox extensions are easy-to-intsall and only a click away.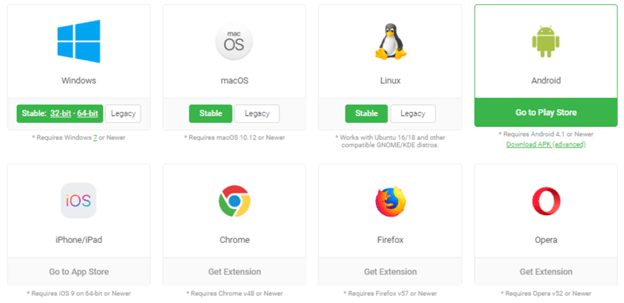 Protects You with State-of-the-art Encryption & Protocols
A VPN is intended to add extra security and privacy to the private and public network. PIA is one of the most secure VPN out there that provides robust protection to all your sensitive data. Private Internet Access ensures that no data is hijacked and the user's privacy stay intact.
With PIA VPN your data is protected by a wide range of protocol. These include;
PPTP (Point-to-Point Tunneling Protocol)
L2TP/IPSec Protocol
OpenVPN Protocol
The VPN industry standard protocols including PPTP, OpenVPN, and L2TP/IPSec. While testing the service, I analyzed that the default setting of the protocol encryption is 128-bit which can be extended to AES 256 bit as per user requirements.
If you feel lost or confused, you can refer to Private Internet Access support page that has FAQs to configure different protocols on different devices.
 Global Reach – How Widespread PIA Network Is?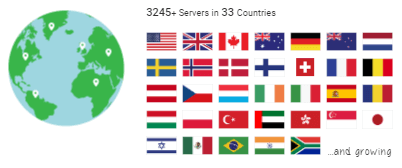 With the subscription of Private Internet Access, you will access 3,522 servers spread across 53 locations in 33 countries. It is likely that VPN providers will spin servers to meet demand but having a large number of servers is beneficial for users.
All these servers are well-located globally which will permit users to unblock any geo-blocked content with a quick connection established.
Are the VPN Servers P2P Supported?
The VPN offers "Peer to Peer" (P2P) support on all its servers which is a plus for users. The peers are computer systems which have a connection with each other through the Internet. The support allows the files through P2P to be directly shared through the system available on the network without the central server that makes file sharing secure.
So far we have discussed features which are to some extent in favor of the VPN service except for Privacy policy and its physical business location. Now, let's discuss features that are missing from the service or profoundly dreadful for the users.
The Absence of Live Chat Support
Live customer support is a major plus as it solves the user's query as it occurred. Private Internet Access lacks this very basic feature. Although, it has a support page with all the essential 'help' in the form of articles which users can access when needed.

Users can generate a ticket from the website and wait a minimum of 30 minutes or maximum 48 hours to receive the response.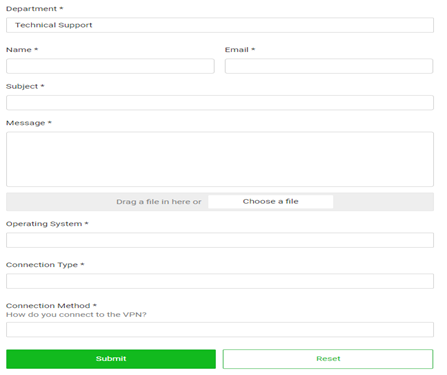 No Dedicated Streaming Servers
Private Internet Access does not provide dedicated streaming servers. In the age where VPNs are fighting hard for their survival, compromising on streaming Netflix and other popular streaming sites is a setback. Although PIA supports P2P which is good for torrenters, but missing out this feature is a disadvantage for the provider.
What I Concluded?
Private Internet Access as a VPN provider – it is no doubt an affordable option in the VPN industry. It meets all the standard of the VPN market when it comes to protocol support, device and OS compatibility and servers offered. I found the speed better than many other pricy VPN services. PIA VPN also passes the criteria I have set for additional security features like DNS Leaks, SOCKS5 Proxy and Kill Switch. What I still cannot digest is the physical jurisdiction of the VPN provider's company.
I can spend $10 more a month to make sure my data stay private when using a VPN. In PIA case, this is something still doubtful. If the claims of PIA of having 'No-Logs' policy is correct and they correctly do what they promise, then I can recommend PIA to the readers.
So the bottom line is – PIA is a good, affordable option for VPN seekers, but a high-alert for those who aim to keep their privacy and security intact with it.