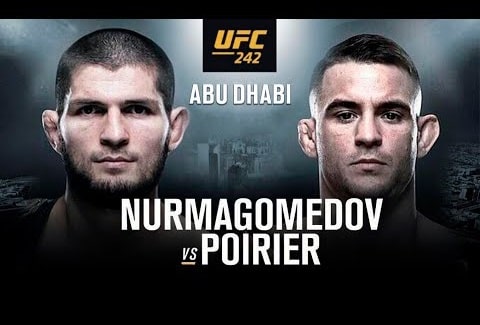 Are you a boxing fan? You must have heard about UFC; haven't you? Do you know that UFC has become one of the most popular mixed martial art sport, with an annual revenue crossing $600 million and an average online viewership of around yearly 10 million subscribers across the world? Till the 90's boxing was the 'NUMBER ONE' choice among 'Fight Fans' and then came UFC. The easiest and cheapest way to fulfil your desires is to watch UFC online from the comfort of your home.
What's the Issue in Watching UFC Online?
No one likes limitation and boundaries. Here at Allbestvpn.com, our agenda is "No Boundaries on the Internet."  We hate unnecessary rules, geo-restrictions, and blood-sucking cable subscription prices. This is why we compile this guide to let our readers know the ways to watch UFC online without having a pricy cable subscription.
In this short, yet brief guide, we will show you how you can stream UFC live on any platform any time of your day. We will list down all the available options, and after comparing them, you can choose the one suited most to your needs.
So let's not waste more time and let's get started!
Latest Upcoming Fight: UFC 242: Khabib vs Poirier
Bout:

Khabib Nurmagomedov vs. Dustin Poirier

Date:

Sat, September 7, 2019

Time:

12:00 PM MST

Venue:

The Arena, Yas Island in Abu Dhabi, UAE.
Fighters Details
| | | |
| --- | --- | --- |
|   | Khabib Nurmagomedov | Dustin Poirier |
| Height | 5'10 | 5"9 |
| Weight | 155.00 LB | 155.00 LB |
| Reach | 70 in | 72 in |
| Take Down AVG. | 5.09 | 1.75 |
| Leg Reach | 40 in | 40.5 in |
| TD AC | 44% | 41% |
| Sub AVG. | 31% | 25% |
Reigning Ultimate Fighting Championship (UFC) lightweight champion, Khabib Nurmagomedov, is ready to unify the division straps in a most-exciting collision with interim titleholder, Dustin Poirier, in the UFC 242 pay-per-view headlining event, scheduled for the first weekend of Sept. 2019, in Abu Dhabi. Mark your calendar for Sept. 7.
Nurmagomedov (27-0) has not seen in the octagon since his submission win over longtime rival, Conor McGregor, happened last October in Las Vegas. Aside from his disciplinary suspension by "Sin City" regulators; thanks to "The Eagle" for taking the summer off for Ramadan.
Poirier (25-5, 1 NC) has been one of the more active fighters at 155 pounds, crowned six straight victories, that's the reason why he has secured the substitute strap with a commanding performance against Max Holloway, in the UFC 236 headliner in April.
Who is going to make their first title defense this year?
The winner makes their first title defense against top contender, Tony Ferguson, later this year, or perhaps early 2020.
This comeback of Nurmagomedov's is also complimented with some rumors of a rematch with his last target, though Conor McGregor already tweeted that he is retiring. 
I and my team of experts are betting for Khabib winning – It's not like we are doubting Poirier's strong boxing sense and forward pressure, but Khabib will slip and throw easily.
On-Demand Options To Watch UFC Online
UFC official website is where all the fight content, prelims, behind the scenes BTS and all the trending news is available. But UFC fights are blacked out in some countries. There are two options available to catch all the exciting fun.
UFC Fight Pass
UFC Pay-Per-View
UFC Fight Pass Plan
With UFC Fight Pass, fans will get unlimited access to all the UFC content. It is a more convenient option as it gives you everything you need from unlimited content to a wide range of devices to stream UFC.
The pricing plan of Fight Pass is as follow:
$9.99/month
$8.99/month for 6 months
$7.99/month for 12 months
Fight Pass gives you a 7-day free trial, and it supports devices like smartphones, tablets, gaming consoles, Laptops, and PCs.
The other option is:
UFC Pay-Per-View
UFC Pay-Per-View is the option where you can get a subscription to watch a specific fight of your favorite MMA fighters.
The pricing plan is as follow:
$34.99/month HD
$61.96/month for months that includes a 50% as well.
The perks of UFC channels is immense, but it is not light on the pocket.
Options To Watch UFC Online With a Cable Subscription
UFC sells its broadcasting rights to limited channels which is a big problem for fans as they have very limited options to watch the fights live.  Another major issue is that you need to have the subscription of the broadcasting channel to watch the fights; otherwise, your access will be denied.
Other then subscription, there's one another issue that you might face while accessing these channels and that is geo-restriction. Most of the channels broadcasting UFC fights are limited to specific regions only. If you reside elsewhere, you may not be able to access the channel.
Is There a Way Out? Yes! Only Through a VPN
Keeping in the PPV and Fight Pass prices in mind, watching UFC online seems like a shattering dream with the number of geo-restrictions worldwide; unless you have a reliable tool. You require a VPN service to make your life easier by connecting to the desired location to watch UFC fight on any channel you like.
Finding the fastest and most secure VPN is a tough job. There are hundreds of them claiming to be the best VPN service in town, but in reality the claims are nothing more than false statements. To ease your job of finding the right VPN provider, we have analyzed and tested a dozen of VPN providers and crafted a list of top 5 which we recommend for fastest speed and smooth performance.
[Note: Do remember that VPN only helps your bypass geo-restrictions and does not give you the access of these channels if you do not have the subscription].
List of all Channels Airing UFC Fights
UFC is no ordinary event, it's the most viral sport that has made a global impact catering to millions of fans. But the corporation have a handful of official broadcasters in each country that limits the viewership. Users can check the official channels below:
| | |
| --- | --- |
| Country | Channels |
| US | Fox Sports |
| UK | BT Sport |
| Russia | Russia 2 |
| Brazil | Globo |
| Japan | WOWOW |
Then again, most of the channels will only cater to local audiences, and if you are living outside these countries, then your access would be restricted. Here's how you can watch UFC live streaming on the listed channels:
How To Watch UFC Online On Fox Sports (US)
In the US, only Fox Sports will have the official broadcasting rights to air UFC fights. FOX Sports is a subscription-based TV channel which is ranking among the top broadcasters accessed by millions of viewers.
You need to download the Fox Sports Go app on your devices to stream the event live as it happens. However, this is not possible without a UFC Fight Pass. Let's get the VPN downloaded on your devices:
Download the best VPN from the list we have mentioned
Configure the VPN on your devices
Connect to the US server
Go to Fox Sports and search for UFC
Done! Now you can enjoy UFC events on Fox Sports Live.
How to save Subscription Cost on PPV with a VPN?
The prices of the Fight Pass and PPV differs in each region, and you can avail lower prices in countries like Singapore and the Philippines. Does that mean you have to travel to Singapore? Hell no! You need a VPN to connect to the server in Singapore and purchase the cheapest Fight Pass package.
Open your VPN software and connect to the Philippines Server
Go on the official UFC website and search the UFC TV live events page
Purchase Fight Pass or PPV at a lower price
Connect to the UFC website, and stream UFC fights live online
Note: It is possible that other countries may provide a cheaper price. Keep switching servers and compare the prices. Choose the best price that suits you and enjoy streaming UFC.
Are you a cord cutter?
Can't afford the blood-sucking high-prices cable subscriptions? Worry not! There are cheaper, and to some extent, free ways to watch UFC fights streaming live online. And, the option which is light on your pocket, easy on your head and better in its performance is Kodi.
So, let's dig deeper and see how the job can be done.
How to Watch UFC on Kodi For Free?
To watch UFC on Kodi, you will need the right-working add-ons. There are many add-ons with which you can watch live events of UFC, but Kodi being illegal in some countries, streaming live UFC events, ends up in disappointments. Worry not! We have a perfect solution for you. As mentioned earlier a VPN is your savior for all online problems. Here a best Kodi VPN can help you bypass such restrictions as well as keep your online identity hidden from legal authorities. Hence you will enjoy online content without being caught.
To ease your job, we have compiled a list of all best Kodi addons that are working and gives you live access to UFC fights. Install these best Kodi addons on your Kodi and start streaming UFC fights:
UFC Fight Pass
Planet MMA
The Dogs Bollocks
BT Sport UK
How to Download UFC Fight Pass Addon
Watching UFC fights from known UFC addons has multiple benefits. But to avail those benefits you need to be subscribed to UFC Fight Pass. Unfortunately, UFC Fight Pass does not have an official Kodi addon, but an unofficial addon is available.
The UFC Fight Pass addon can be located in the portse repository which needs to be downloaded first. Here're the easy steps:
Download the Portse repo and save it where you can easily locate it later on your device
Open Kodi app and click on 'Settings'
From 'System Settings' select 'Expert Mode' and choose 'Addons'
Turn on 'Unknown Sources' to install third party apps
Click 'Yes' on the warning box
From Kodi home screen select 'Addons'
Click on the Package Installer
Select 'Install from Zip File'.
Search the portse file you had previously downloaded and install it
Portse repo enabled notification will appear
Choose 'Install from Repo' and click on Portse repo
Click on 'Video addons' and select UFC Fight Pass to install it
Wait for the video addon enabled notification
It is important that you have the UFC Fight Pass subscription to make these steps work.
How to Download Planet MMA Addon
Planet MMA is among the best addon to watch UFC on Kodi as it has a collection of latest and archived UFC fight nights, news, interviews and much more. This addon is updated on and off which fixes the bugs if any. The developers make sure that all non-working links are removed in every update to provide the best streaming experience on Kodi.
Installing Planet MMA is tricky. So, stay focused and don't skip any step.
Open Kodi and click on Settings
Click on System Settings and select Expert Mode
Select Addons and turn on 'Unknown Sources.' to install third-party addons.
Click 'Yes' when warning box appears
Return to home screen and click on the 'Settings'
Next, click on File Manager and select Add Source.
Copy paste this URL https://cazwall.com/repo/ and name it "Cazwall".
After installation return to home screen
Select Package Installer and 'Install from Zip file'.
Choose 'Cazwall' and click on Repository
Choose v7 and select addons.
Next install repository.simplycaz-1.0.1.zip
Addon enabled notification will appear
Choose Install from repository.
Choose Caz repository to open it.
Select Video Addons and click on Planet MMA and hit install.
Planet MMA Addon Enabled notification will pop-up
From Kodi home screen choose addons tab
How to Download Dogs Bollocks Addon
The name itself is alarming, but Dogs Bollocks is the best UFC and MMA addon that provides good quality UFC streams. You can stream a lot more as this addon provides explicitly good opportunities to stream sports. Besides UFC, Wrestling and Boxing can also be streamed live.
Make sure you have the UFC Fight Pass subscription to make the addon work. Follow the steps below and get direct access to UFC streams.
Launch Kodi and click on Settings to select File Manager
Click on Add Source
Select the message that says ''
Copy paste the URL http://mavericktv.net/mavrepo/ and click OK
Name it 'Maverick' at the bottom of the pop-up and click 'OK'
From Kodi Home Screen select 'Addons' and click on the open box icon
Choose 'Install from ZIP file'
Click on 'Maverick' when the pop-up appears and select the ZIP file 'repository.maverickrepo-x.x.zip'.
Choose 'Install from Repository'. If you can't find this addon, return to Kodi Home Screen and select 'Addons' and then click on the open box icon;
Go to MaverickTV Repo and select Video Addons
Choose Dogs Bollocks and click on the addon name
Click on the 'Install' button and wait for the installation to end
From Kodi Home Screen check the newly installed addons. Select Maverick and start streaming.
How to Download BT Sports UK Addon
Due to increased censorship, the BT Sports service is not available for everyone. Having exclusive streaming to premiere UFC fights and UEFA Champions League; this broadcaster is craved by many.
Thanks to Kodi, BT Sports is available through Kodi addons. But understand that BT Sport is only available in the UK and to access it you would require a VPN to get full access on the Kodi device. To stream BT Sport, we will use the UK Turk Kodi addon as its an excellent choice for watching UFC on BT Sports.
Open Kodi and click on Settings
Select File Manager and choose Add Source
Click on NONE and copy paste the URL http://kodi.metalkettle.co/
Name it "metalkettle" and click OK
Next click on Addons from Home screen
Click on the Packages Installed and select Install from Zip file
Click on metalkettle and select repository.metalkettle-1.7.1.zip
Return back and choose install from repository
Open the MetalKettles Addon Repository
Select Video Addons and choose UK Turk Playlist, hit INSTALL
From home screen Video Addons and launch UK Turk
Choose Sports and find BT Sport to enjoy streaming UFC fights.
How to Watch UFC Online on Amazon Fire Stick
Amazon Fire Stick and Fire TV are among the best devices because of its operating system (OS) working on Android that hosts multiple free apps that are of good quality. It will be a treat for fans as they can watch pay-per-view fights, UFC on Fox, Fight Night and the Ultimate Fighter Finale.
To get access to UFC on Fire Stick, you need to download the robust app 'Mobdro.' The app will give you access to numerous TV channels from around the world which will be categorized by genres. Through Mobdro, users can find the main UFC streaming channel FOX, FOX Sports 1, FOX Sports 2 and SkySports where the UFC fights will be aired.
We would not recommend downloading Mobdro without the protection of a VPN since ISPs can track your location.
Surprisingly, Mobdro is available on the Amazon Fire Stick devices which can be downloaded without any subscription. Let's get you one step closer with a simple installation guide of Mobdro.
From your Fire Stick device, go to settings and select device.
Click on the Developer Options and turn on Settings to activate download from 'Unknown Sources."
Next, return to home screen and click on search options
Search ES File Explorer, click on Downloads and choose Apps
Click on Add source and copy paste this URL https://www.mobdro.to/mobdro.apk
Name it Mobdro and install the file
After installation, go to Apps and launch Mobdro
UFC Live Stream on Roku
We all know UFC is a paid subscription service that is not available on un-official channels which means PPV fights on Roku will not be free. But with the help of third-party apps, UFC on Roku is possible. There are two possible ways through which UFC on Roku can be accessed. Fans can enjoy live streams of the match through UFC TV app if subscribed to officially licensed channels such as
Showtime PPV
US TV
Fox Sports
Or users can opt for UFC Fight Pass and Pay-Per-View PPV. UFC fights will not be available in the majority of the countries, and only a handful of the countries will air the fights live online. However, if you have a VPN to keep you anonymous, you can easily connect to the US server and enjoy a live stream of UFC on Roku.
How to Watch UFC on Apple TV
The UFC Fight Pass is now available on Apple TV. To unblock UFC fights on Apple TV, you need to follow these steps:
Choose the best Apple TV VPN from our provided list
Install and Configure the VPN on your DD-WRT router
Choose to connect to the desired country server
Connect to the official broadcasting channels on your Apple TV and start streaming
Make your Gaming Console a Streaming Device with UFC on PS4
Now it's easy to catch the live stream of UFC through your gaming console with the new live event service of PS4. It's easy and cheaper. Here's how you can catch your favorite MMA fighter kicking his opponent on PS4.
First, configure the VPN with the following steps:
Choose the best VPN for PS4
Install and Configure the VPN
Choose to connect to the desired country server
Connect to the official broadcasting channels on your console and start streaming
Final Words
UFC is followed and liked by millions of fans globally who passionately enjoy the breathtaking brawl in the octagon. Every second of the game counts which decides the fighters fate. But the viewers' fate is determined by geo-restrictions. That's right! No matter how hard you try, watching these UFC bouts becomes impossible if you are living outside of the official broadcasters region.
This is something fans have to deal with, and with time, we have come up with a reliable solution; Virtual Private Network. No one can stop your access if you have a VPN and Fight Pass subscription, no matter where you are. Don't let your device compatibility ruin your mood. Go through our blog and get to know how you can watch UFC online on multiple devices.